Before TynyTruck even landed on U.S. shores, we came across Subaru part# 13285KA381 which is a rocker cover with red crinkle paint. It looks really great.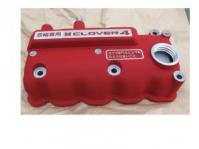 While that is really great looking, we decided that Subaru blue would be the way to go. So, after picking up some VHT SP206 Blue Wrinkle Finish Paint, we knew when that cover came off to check the rocker gaps, it would get an update before it went back on.
After much cleaning, and a wire brush, it was painted.
It is so cool to watch the paint wrinkle as it dries over the next several hours. The next day it was dry, and time to install it.
Notice we decided to spruce it up a bit. You can't have a clover, and not have it green. Similarly, the "4" was screaming to be red.
And here is the final install.
In the future, we may need to trade out the tin shields for fresh ones. But otherwise we think it is an improvement.
While we were in there we freshened the front seals, the timing and accessory belts, water pump, coolant, oil, and pretty much got the engine ready to run. While adjusting the rocker gaps, they appeared to have no gap set. After adjusting to the proper .015 on the intake, and .020 on the exhaust, the engine is running better than ever.
To cap it off we added a couple of finishing touches.
Look for us out on the road, and tag us when you see us!